Victoria legislation video series
Welcome to your Victoria legislation video series
The diversity and popularity of Victoria's communal living are evident across the properties of various ages and sizes throughout the state. To manage a harmonious community, there are many considerations regarding the laws, paperwork, and procedures. Let us help you gain a clearer understanding of how and where to start through our series of educational videos.
Through this series, you'll be able to gain insight into common owners corporation topics such as rules for better communal living, list of essential insurance, good record keeping practice and financial responsibilities. You'll also find topics on the purpose of fees, property maintenance and renovation.
Episode 1 – Owners corporation rules to manage your property
Rules provide a framework for harmonious communal living and help regulate the rights of residents.
But how are rules created in owners corporation properties in Victoria? Learn more about owners corporation rules and see how you can make a difference.
Episode 2 – Books and records your owners corporation must keep
Keeping owners corporation books and records is essential – it's not only required by law but it also ensures that key information about the property can be found easily.
So, what are the various types of books and records that must be kept? Learn more about essential record-keeping for your owners corporation.
Episode 3 – Financial responsibilities of an owners corporation
The owners corporation committee has a legal responsibility to manage the funds raised from the owners.
Do you know the key areas of financial responsibility to look out for? Learn more about the potential financial and legal implications if poor decisions are made on behalf of lot owners.
Episode
 4 – Owners corporation insurance what is and isn't covered
Understanding the insurance obligations for an owners corporation property can be daunting.
Do you know the responsibility of the owners corporation and what's the responsibility of the owner? Learn more about the essential types of insurance required by the owners corporation and lot owner.
Extra episodes you get free when you sign up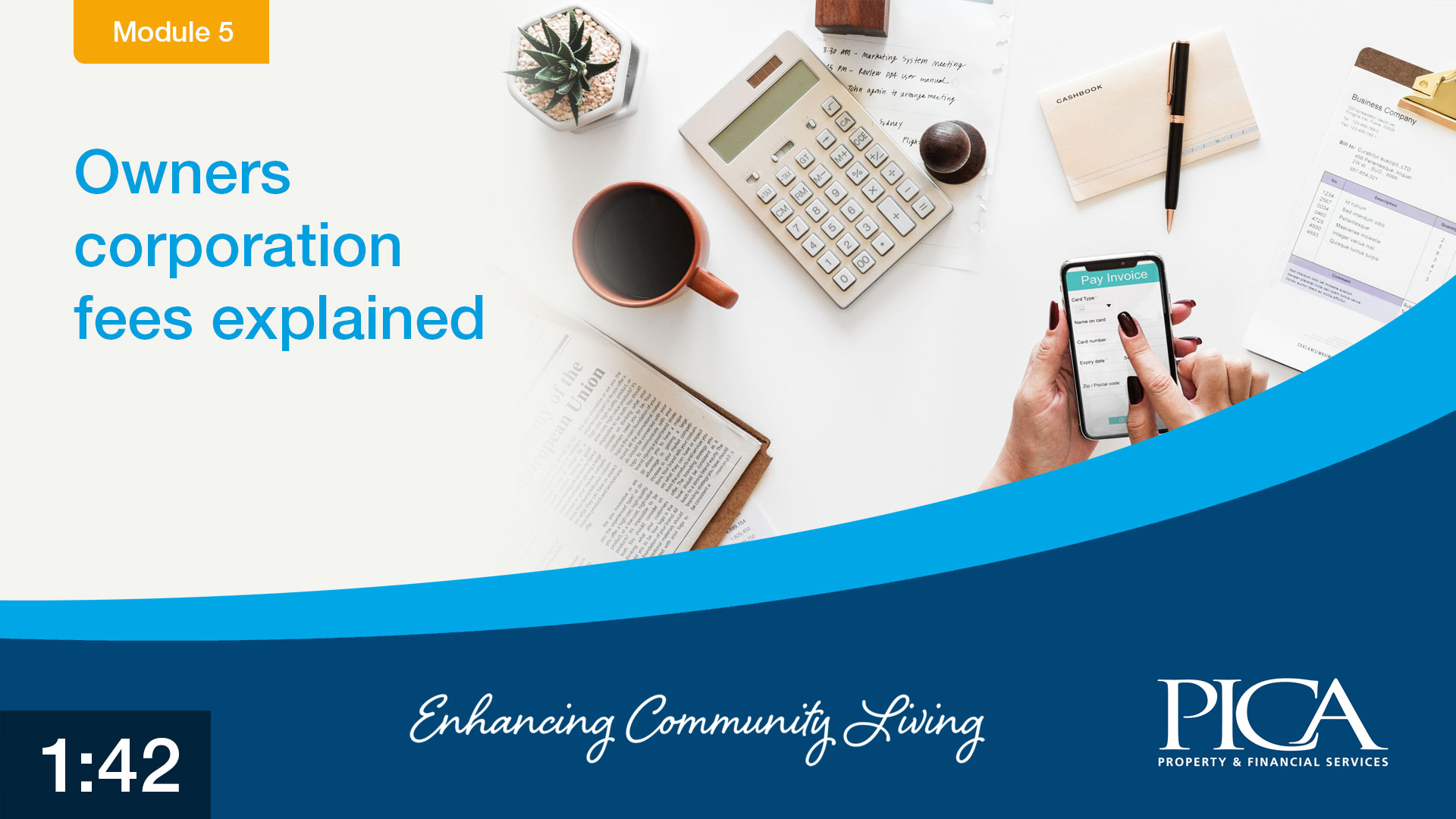 Episode 5 – Owners corporation fees explained
Each year owners pay fees to the owners corporation.
What are the types of fees paid and what are they used for? Learn more about owners corporation fees for prudent financial management.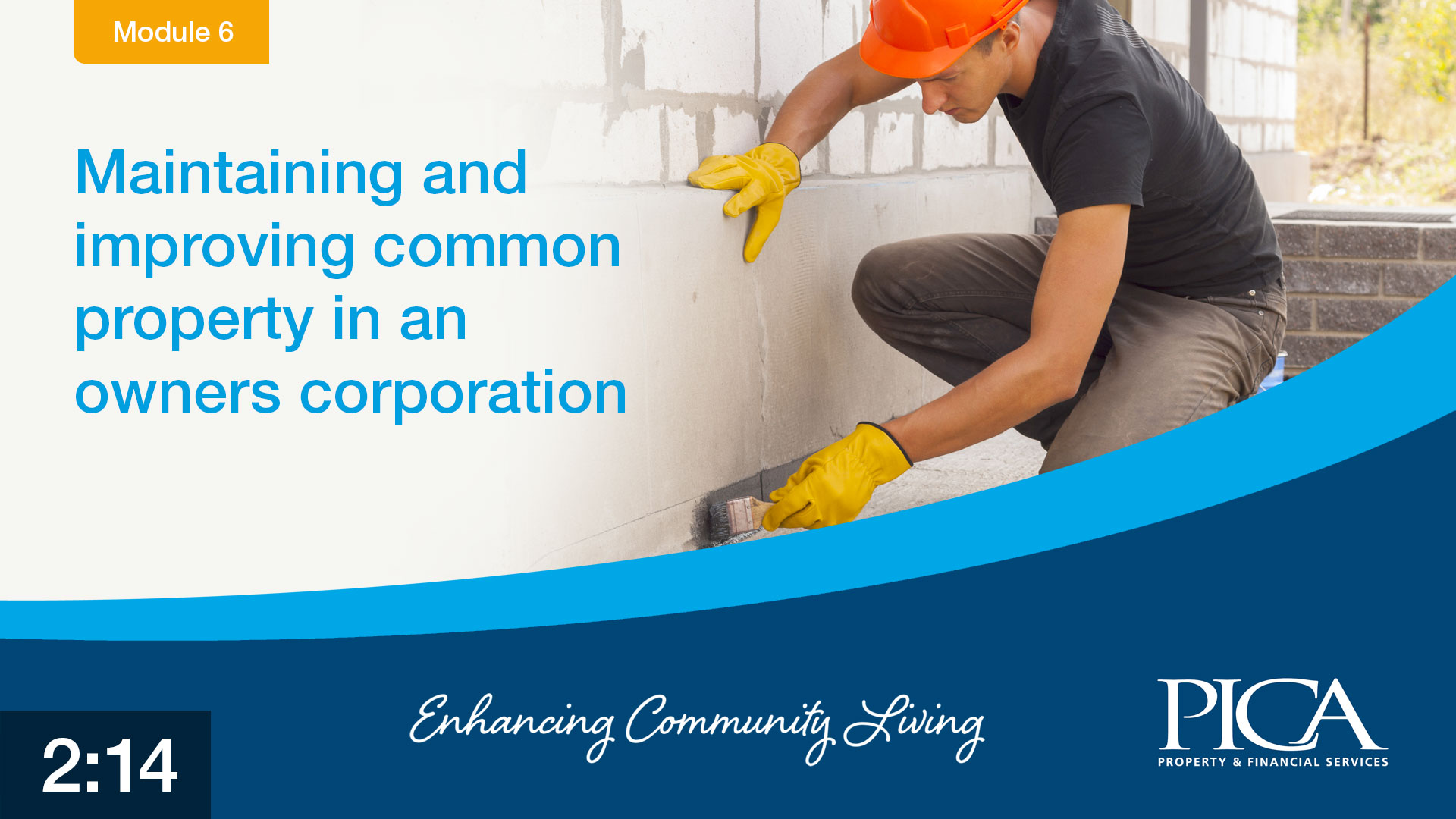 Episode 6 – Maintaining and improving common property in an owners corporation
By purchasing an owners corporation property, you own your individual lot and you have a shared ownership of the common property.
What exactly is common property and who's responsible for the maintenance? Learn more about common property and how to maintain them better.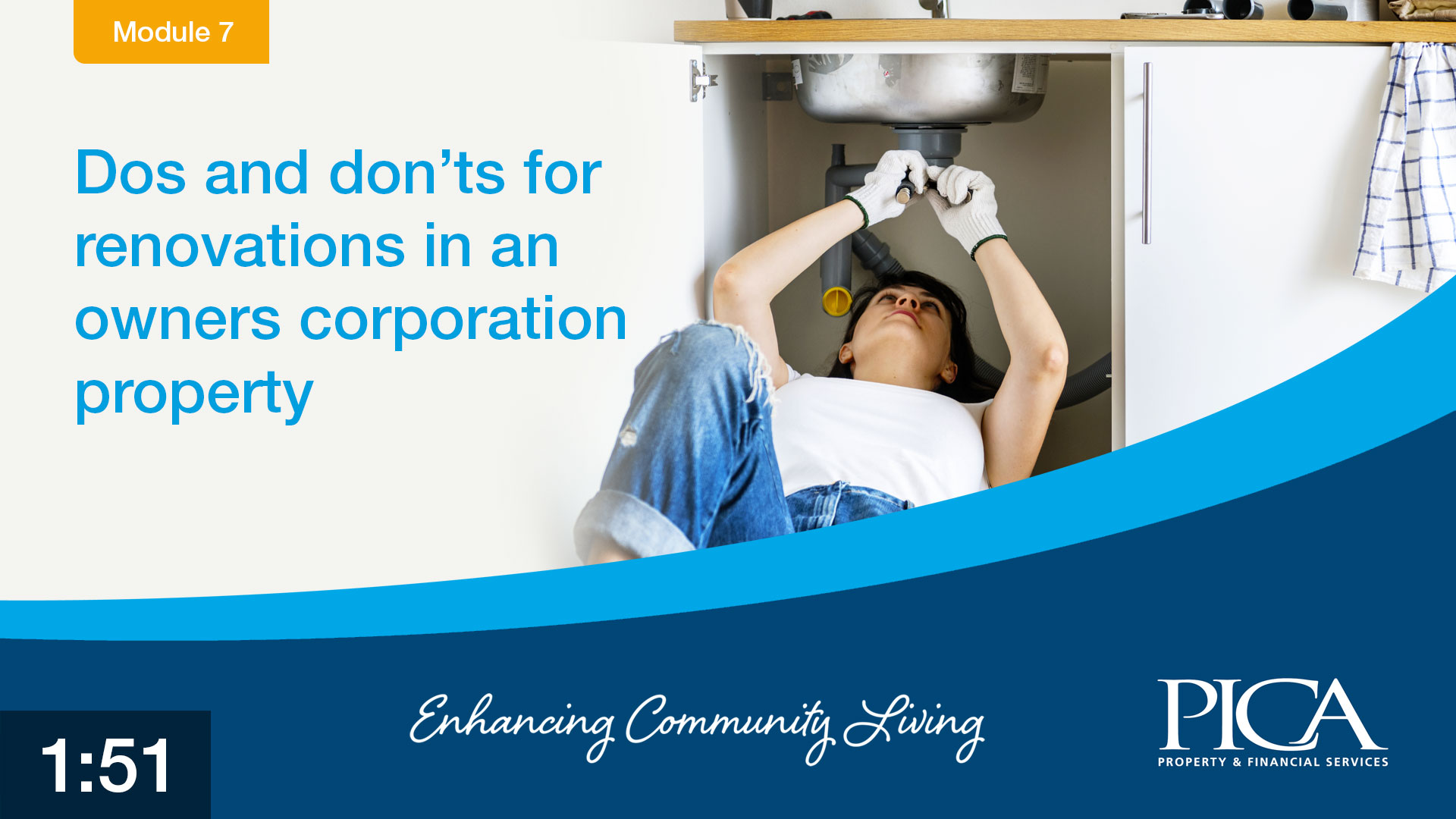 Episode 7 – Dos and don'ts for renovations in an owners corporation property
Regular maintenance and repairs of property is a part of life.
What are the processes to follow before getting the tradie in? Learn the steps to organising maintenance to common property and individual lots.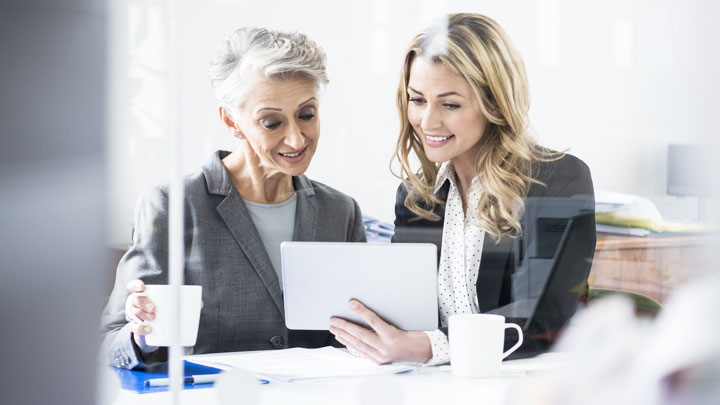 If you're looking for strata management services, get a free strata assessment with PICA Group today by clicking here.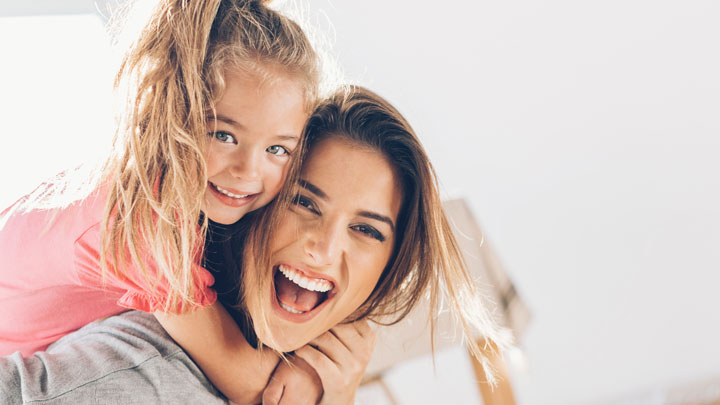 Using our partnerships and relationships across related industries, the PICA Group privilege is our national initiative designed to offer competitive discounts, exclusive deals and resources to our PICA Group family.
---